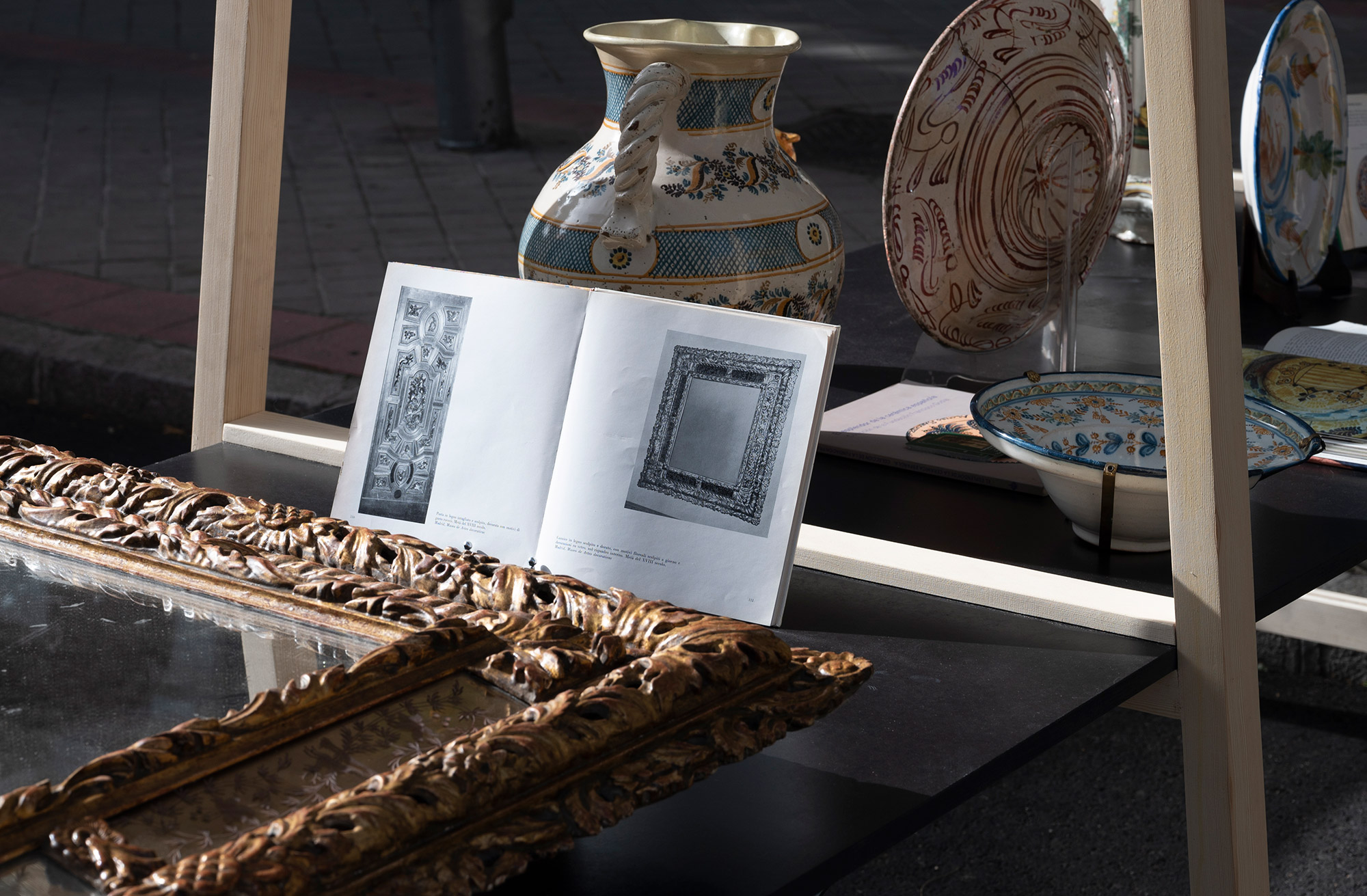 Curation & Exhibition Design:
Sina Sohrab

Concept:
Joel Blanco
Sina Sohrab

Organization:
Office of Design
Mayrit Bienal

Cultural Management:
Yetta Aguado
Lorena Pardo
Raquel Molina Carazo

Production:
María Ona

Graphic Design:
Victor Clemente
Andrea Lopez

Participants:
Antigüedades Benito Torrijos Eliche Arte y Antigüedades
Francisco Montesinos Mercedes Cabeza de Vaca
Pinto y Alvarado

Supported by:
Kvadrat

Images:
Asier Rua
Blanca Guerrero

The Museo Nacional de Artes Decorativas houses a collection of some 80,000 pieces, artifacts of diverse origins and a wide breadth of decorative styles from the lives of people from the 14th century onward. Visiting the museum we see jugs that were once used to bathe, chairs which lived whole lifetimes in the corners of people's bedrooms, and rugs that hosted both dancing feet and spilt wine. These were real people's things, marked by conflict and intimacy, now preserved inside glass vitrines and time-gapped vignettes.
Exposición de Bienes
offers an opportunity to engage with the disparity between conventional presentations of decorative arts objects and their ordinary roles in the lives of people. Produced for the 2022 Mayrit Bienal, the exhibition is split into two acts. The first is presented in front of the Museo Nacional de Artes Decorativas, on C. de Montalbán, from June 16-18. The second, opening in the Fall of 2022, will consist of interventions within the museum.
In this iteration, the exhibition acts as a commercial foil to the existing infrastructure of the museum. It consists of a functioning open-air antiques market, which has been curated to correspond to the museum's collection. Visitors are encouraged to visit the museum and the market in any order they wish, and to take something home. By juxtaposing these infrastructures, we hope to give prominence to the fundamental nature of the objects in the collection: that they were made to be used.
Read the accompanying essay, Proposal for a Contemporary Presentation of the Decorative Arts, here.